1ª Quedada Montesista en Terrassa (8 de Junio de 2016)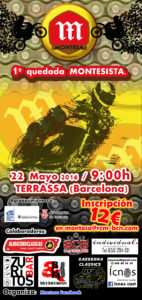 On June 8, 2016, we organized the first Montesista Stay in the city of Terrassa (Barcelona).
We have the assistance of about thirty Montesa, both Road, Enduro and Trial.
We take a stroll through the city, including a lunch of Germanor next to our motorcycles and concluding with a visit to the Museum of Science and Technology of Terrassa, where is permanently the largest exhibition of motorcycles Montesa.
Also, we make a raffle with products and gifts from our collaborators.
Great atmosphere, great day and wanting to repeat in 2017.